Kelly Richmond REALTOR®, CRS, e-PRO, ABR, GRI
The #1
Exclusive BUYER AGENT
in the Reno/Sparks Area
FIVE years in a row, per Volume of Sales NNRMLS
-
Contact Kelly to BUY or SELL !

Call 775-219-6413
or
Email: renokelly@renokelly.com
BEFORE YOU BUY - Read This!
Most buyers, especially first-time buyers, are unaware that conventional real estate agents represent the seller.
Buyer agents have recently emerged in order to protect the interests of the buyer. Hiring a buyer agent will ensure that a real estate professional is looking out for your needs.
If you live in Nevada or out-of state, it is in your best interests to have an agent. Even if you are purchasing a new property an agent will assist you in many ways.
In most cases, the seller of a property offers a commission to an agent who brings a qualified buyer, upon the close of escrow.
Reno MLS. A buyer agent will assist you searching the Reno MLS.

This means that usually, you can have a buyer agent represent you for NO COST TO YOU!
A buyer agent will:
· Find properties that meet your personal criteria
· Negotiate every facet of each contract you enter into
· Strive to get you the best price and best terms
· Arrange a thorough inspection from a qualified home inspector
· Help you find the best mortgage and homeowner's insurance


Dear Future Homeowner:

Reno Real Estate Homeownership is becoming a reality for more and more people. Yet many Americans don't realize that homeownership is within their grasp.

A home is a financial asset and more: it's a place to live and raise children; it's a plan for the future; it's an investment in your community.

To become a first-time Reno Real Estate homebuyer, you need to know where and how to begin the homebuying process. The following questions and answers have been carefully selected to give you a foundation of basic knowledge. In addition to helping you begin, this will give you the tools necessary to navigate the entire process - from deciding whether you're ready to buy, all the way to that final proud step, getting the keys to your new home.

1. HOW DO I KNOW IF I'M READY TO BUY A HOME?
You can find out by asking yourself some questions:
Do I have a steady source of income (usually a job)?
Have I been employed on a regular basis for the last 2-3 years?
Is my current income reliable?
Do I have a good record of paying my bills?
Do I have few outstanding long-term debts, like car payments?
Do I have money saved for a down payment?
Do I have the ability to pay a mortgage every month, plus additional costs?
If you can answer "yes" to these questions, you are probably ready to buy your own home.
2. HOW DO I BEGIN THE PROCESS OF BUYING A HOME?
Start by thinking about your situation. Are you ready to buy a home? How much can you afford in a monthly mortgage payment (see Question 4 for help)? How much space do you need? What areas of town do you like? After you answer these questions, make a "To Do" list and start doing casual research. Talk to friends and family, drive through neighborhoods, and look in the "Homes" section of the newspaper. Search the MLS using this website.
3. HOW DOES PURCHASING A HOME COMPARE WITH RENTING?
The two don't really compare at all. The one advantage of renting is being generally free of most maintenance responsibilities. But by renting, you lose the chance to build equity, take advantage of tax benefits, and protect yourself against rent increases. Also, you may not be free to decorate without permission and may be at the mercy of the landlord for housing.
Owning a home has many benefits. When you make a mortgage payment, you are building equity. And that's an investment. Owning a home also qualifies you for tax breaks that assist you in dealing with your new financial responsibilities- like insurance, real estate taxes, and upkeep- which can be substantial. But given the freedom, stability, and security of owning your own home, they are worth it.
4. HOW DOES THE LENDER DECIDE THE MAXIMUM LOAN AMOUNT THAT CAN AFFORD?
The lender considers your debt-to-income ratio, which is a comparison of your gross (pre-tax) income to housing and non-housing expenses. Non-housing expenses include such long-term debts as car or student loan payments, alimony, or child support. According to the FHA,monthly mortgage payments should be no more than 29% of gross income, while the mortgage payment, combined with non-housing expenses, 4 should total no more than 41% of income. The lender also considers cash available for down payment and closing costs, credit history, etc. when determining your maximum loan amount.
5. HOW DO I SELECT THE RIGHT REAL ESTATE AGENT?
Start by asking family and friends if they can recommend an agent. Compile a list of several agents and talk to each before choosing one. Look for an agent who listens well and understands your needs, and whose judgment you trust. The ideal agent knows the local area well and has resources and contacts to help you in your search. Overall, you want to choose an agent that makes you feel comfortable and can provide all the knowledge and services you need.
6. HOW CAN I DETERMINE MY HOUSING NEEDS BEFORE I BEGIN THE SEARCH?
Your home should fit way you live, with spaces and features that appeal to the whole family. Before you begin looking at homes, make a list of your priorities - things like location and size. Should the house be close to certain schools? your job? to public transportation? How large should the house be? What type of lot do you prefer? What kinds of amenities are you looking for? Establish a set of minimum requirements and a 'wish list." Minimum requirements are things that a house must have for you to consider it, while a "wish list" covers things that you'd like to have but aren't essential.
7. WHAT SHOULD I LOOK FOR WHEN DECIDING ON A COMMUNITY?
Select a community that will allow you to best live your daily life. Many people choose communities based on schools. Do you want access to shopping and public transportation? Is access to local facilities like libraries and museums important to you? Or do you prefer the peace and quiet of a rural community? When you find places that you like, talk to people that live there. They know the most about the area and will be your future neighbors. More than anything, you want a neighborhood where you feel comfortable in.
8. HOW CAN I FIND OUT HOW MUCH HOMES ARE SELLING FOR IN CERTAIN COMMUNITIES AND NEIGHBORHOODS?
Your real estate agent can give you a ballpark figure by showing you comparable listings. If you are working with a REALTOR, they may have access to comparable sales maintained on a database.
9. WHAT OTHER TAX ISSUES SHOULD I TAKE INTO CONSIDERATION?
Keep in mind that your mortgage interest and real estate taxes will be deductible. A qualified real estate professional can give you more details on other tax benefits and liabilities,
10. IS AN OLDER HOME A BETTER VALUE THAN A NEW ONE?
There isn't a definitive answer to this question. You should look at each home for its individual characteristics. Generally, older homes may be in more established neighborhoods, offer more ambiance, and have lower property tax rates. People who buy older homes, however, shouldn't mind maintaining their home and making some repairs. Newer homes tend to use more modern architecture and systems, are usually easier to maintain, and may be more energy-efficient. People who buy new homes often don't want to worry initially about upkeep and repairs.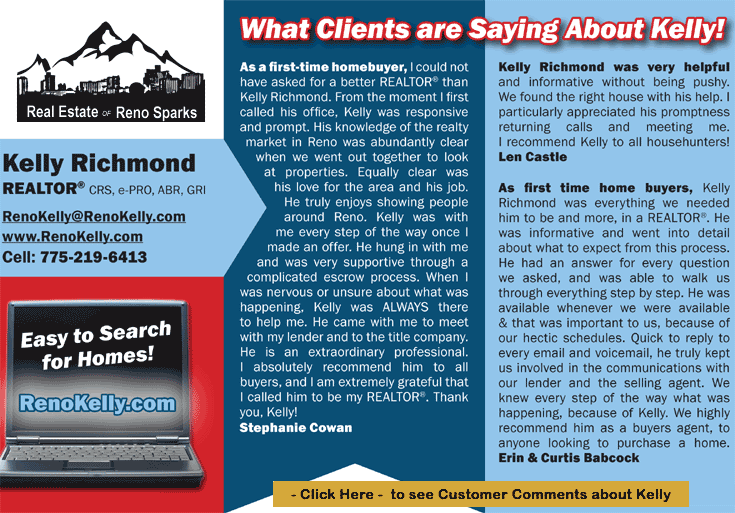 Kelly Richmond REALTOR®
License #S.0063483
Real Estate of Reno Sparks
700 Smithridge Dr.
Bldg B Suite 104
Reno, NV 89502
---
Realtor Reno ~ Reno Nevada Real Estate ~ Reno Real Estate ~ Reno Home For Sale
Reno Realty ~ Reno NV Real Estate ~ Sparks Real Estate ~ Site Map ~ Home Page
Reno MLS - Reno Homes for Sale - Washoe County Real Estate © 2004 - 2025 RenoKelly.com. All Rights Reserved.